Newer posts are loading.

You are at the newest post.
Click here
to check if anything new just came in.
What May Cause Heel Discomfort And Approaches To Treat It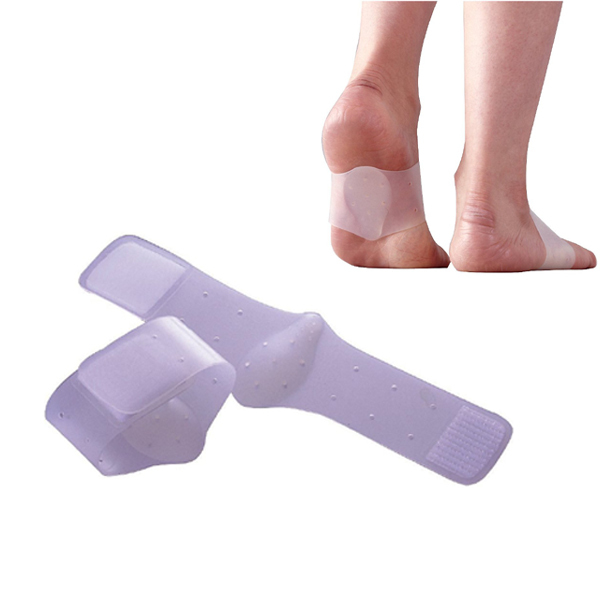 Overview
Foot pain affects nearly all people at one time or another. It can also lead to other musculoskeletal problems such as ankle, knee and back pain (Hill et al., 2008). This pain negatively affects one's quality of life and ability to enjoy workouts and/or maintain a regular program of exercise. One of the most common sources of foot pain is plantar fasciitis, a condition where the connective tissue on the underside of the foot becomes irritated and painful as a result of an injury, overuse or misuse. The plantar fascia is a system of connective tissue that runs from your heel to just behind your toes. During weightbearing activities, such as walking or running, your body weight is transferred onto your foot from your heel to your toes (which results in your toes moving away from your heel). This spreading out of the foot places tension on the plantar fascia because it connects those two parts. If the tension on this structure is too great or is not dispersed evenly, the plantar fascia can develop microtears and become irritated and painful, resulting in a condition called plantar fasciitis.
Causes
Because the plantar fascia supports your foot and gets used every time you take a step, it has to absorb a large amount of stress and weight. If too much pressure is put on the plantar fascia, the fibers can become damaged or start to tear. The body responds by causing inflammation in the affected area. This is what causes the pain and stiffness of plantar fasciitis. Things that can increase the risk of plantar fasciitis include tight calf muscles. Tight calves make it harder to flex your foot, and this puts more stress on the plantar fascia. Weight. Carrying a few extra pounds puts added pressure on your feet every time you take a step. Activities that put a lot of stress on the feet. This includes things like running, hiking, dancing, and aerobics. Bad shoes. Footwear that doesn't give your foot the support it needs increases your risk of plantar fasciitis. You'll want to ditch any shoes that have thin soles or inadequate arch support, or ones that don't fit your feet properly. Routinely wearing high heels can also cause your Achilles tendon to contract over time, making it harder to flex your foot. Jobs that involve a lot of standing or walking on hard surfaces. Jobs that keep you on your feet all day, like waiting tables or working in a store, can cause damage to your plantar fascia. High arches, flat feet, or other foot problems. The shape of your foot can affect the way your weight is distributed on your feet when you stand. If weight distribution is a bit off, it can add to a person's risk of plantar fasciitis. How someone walks can increase the stress on certain parts of the foot too.
Symptoms
Plantar fascia usually causes pain and stiffness on the bottom of your heel although some people have heel spurs and suffer no symptoms at all. Occasionally, heel pain is also associated with other medical disorders such as arthritis (inflammation of the joint), bursitis (inflammation of the tissues around the joint). Those who have symptoms may experience 'First step' pain (stone bruise sensation) after getting out of bed or sitting for a period of time. Pain after driving. Pain on the bottom of your heel. Deep aching pain. Pain can be worse when barefoot.
Diagnosis
Diagnosis of plantar fasciitis is based on a medical history, the nature of symptoms, and the presence of localised tenderness in the heel. X-rays may be recommended to rule out other causes for the symptoms, such as bone fracture and to check for evidence of heel spurs. Blood tests may also be recommended.
Non Surgical Treatment
Orthotics are corrective foot devices. They are not the same as soft, spongy, rubber footbeds, gel heel cups etc. Gel and rubber footbeds may cushion the heels and feet, but they do not provide any biomechanical correction. In fact, gel can do the opposite and make an incorrect walking pattern even more unstable! Orthotic insoles work by supporting the arches while re-aligning the ankles and lower legs. Most people's arches look quite normal when sitting or even standing. However, when putting weight on the foot the arches lower, placing added tension on the plantar fascia, leading to inflammation at the heel bone. Orthotics support the arches, which reduces the tension and overwork of the plantar fascia, allowing the inflamed tissue to heal. Orthotics needn't be expensive, custom-made devices. A comprehensive Heel Pain study by the American Orthopaedic Foot and Ankle Society found that by wearing standard orthotics and doing a number of daily exercises, 95% of patients experienced substantial, lasting relief from their heel pain symptoms.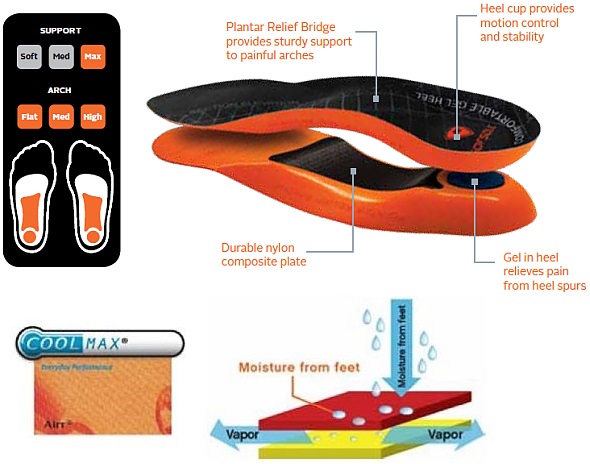 Surgical Treatment
Surgery should be reserved for patients who have made every effort to fully participate in conservative treatments, but continue to have pain from plantar fasciitis. Patients should fit the following criteria. Symptoms for at least 9 months of treatment. Participation in daily treatments (exercises, stretches, etc.). If you fit these criteria, then surgery may be an option in the treatment of your plantar fasciitis. Unfortunately, surgery for treatment of plantar fasciitis is not as predictable as a surgeon might like. For example, surgeons can reliably predict that patients with severe knee arthritis will do well after knee replacement surgery about 95% of the time. Those are very good results. Unfortunately, the same is not true of patients with plantar fasciitis.
Stretching Exercises
In one exercise, you lean forward against a wall with one knee straight and heel on the ground. Your other knee is bent. Your heel cord and foot arch stretch as you lean. Hold for 10 seconds, relax and straighten up. Repeat 20 times for each sore heel. It is important to keep the knee fully extended on the side being stretched. In another exercise, you lean forward onto a countertop, spreading your feet apart with one foot in front of the other. Flex your knees and squat down, keeping your heels on the ground as long as possible. Your heel cords and foot arches will stretch as the heels come up in the stretch. Hold for 10 seconds, relax and straighten up. Repeat 20 times. About 90 percent of people with plantar fasciitis improve significantly after two months of initial treatment. You may be advised to use shoes with shock-absorbing soles or fitted with an off-the-shelf shoe insert device like a rubber heel pad. Your foot may be taped into a specific position. If your plantar fasciitis continues after a few months of conservative treatment, your doctor may inject your heel with steroidal anti-inflammatory medication. If you still have symptoms, you may need to wear a walking cast for two to three weeks or a positional splint when you sleep. In a few cases, surgery is needed for chronically contracted tissue.