Newer posts are loading.

You are at the newest post.
Click here
to check if anything new just came in.
What May Cause Heel Pain To Surface
Overview
Plantar fasciitis is thickening of the plantar fascia, a band of tissue running underneath the sole of the foot. The thickening can be due to recent damage or injury, or can be because of an accumulation of smaller injuries over the years. Plantar fasciitis can be painful.
Causes
Plantar Fasciitis is simply caused by overstretching of the plantar fascia ligament under the foot. So why is the ligament being overstretched? There are different factors, over-use, too much sports, running, walking or standing for long periods (e.g. because of your job) weight gain, our feet are designed to carry a 'normal' weight. Any excess weight places great pressure on the bones, nerves, muscles and ligaments in the feet, which sooner or later will have consequences. Even pregnancy (in the last 10 weeks) can cause foot problems! age, as we get older ligaments become tighter & shorter and msucles become weaker; the ideal circumstances for foot problems, unsupportive footwear, 'floppy' shoes with no support as well as thongs affect our walking pattern, walking barefoot, especially on hard surfaces like concrete or tiles, low arch and flat feet or over-pronation. An important contributing factor to Plantar Fasciitis is 'excess pronation' (or over-pronation). This is a condition whereby the feet roll over, the arches collapse and the foot elongates. This unnatural elongation puts excess strain on the ligaments, muscles and nerves in the foot. When the foot is not properly aligned, the bones unlock and cause the foot to roll inward. With every step taken your foot pronates and elongates, stretching the plantar fascia and causing inflammation and pain at the attachment of the plantar fascia into the heel bone. Re-alignment of the foot should therefore an important part of the treament regime.
Symptoms
Plantar fasciitis sufferers feel a sharp stab or deep ache in the middle of the heel or along the arch. Another sign is the morning hobble from the foot trying to heal itself in a contracted position overnight. Taking that first step causes sudden strain on the bottom of the foot. The pain can recur after long spells of sitting, but it tends to fade during a run, once the area is warmed up.
Diagnosis
To arrive at a diagnosis, the foot and ankle surgeon will obtain your medical history and examine your foot. Throughout this process the surgeon rules out all the possible causes for your heel pain other than plantar fasciitis. In addition, diagnostic imaging studies such as x-rays or other imaging modalities may be used to distinguish the different types of heel pain. Sometimes heel spurs are found in patients with plantar fasciitis, but these are rarely a source of pain. When they are present, the condition may be diagnosed as plantar fasciitis/heel spur syndrome.
Non Surgical Treatment
Conservative treatment is almost always successful, given enough time. Traditional treatment often includes, rest, NSAIDs, and new shoes or heel inserts. Some doctors also recommend avoiding walking bare-footed. This means you'd have to wear your shoes as soon as you wake up. Certain foot and calf exercises are often prescribed to slowly build strength in the ligaments and muscles that support the arch of the foot. While traditional treatment usually relieves pain, it can last from several months to 2 years before symptoms get better. On average, non-Airrosti patients tend to get better in about 9 months.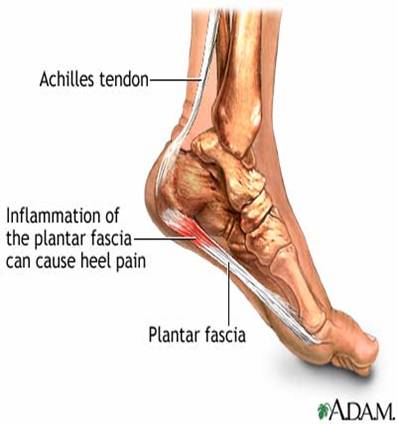 Surgical Treatment
Surgery is not a common treatment for this condition. Approximately 5% of people with plantar fasciitis require surgery if non-surgical methods do not help to relieve pain within a year. The surgical procedure involves making an incision in the plantar fascia in order to decrease the tension of the ligament. Potential risks of this surgical procedure include irritation of the nerves around the heel, continued plantar fasciitis, heel or foot pain, infection, flattening of the arch, problems relating to the anesthetic.
Prevention
Preventing plantar fasciitis is crucial. There are many choices to help prevent the occurrence of this condition, and keep it from returning. One of the most important is maintaining a healthy weight in order to reduce tension on the plantar fascia. In addition, shoes are very important, and should fit well and provide ample cushioning and support throughout the heel, arch, and ball of the foot so that weight is distributed evenly throughout the foot. Try to avoid walking barefoot on hard surfaces and replace old shoes before they wear out, especially shoes that you run or exercise in. When exercising, start off slow and ease into new routines to prevent sudden or excessive stress on tissue. Lastly, keep your calf muscles and the tissue of your feet stretched. Greater flexibility in the tissue makes them less susceptible to damage.